Brain damage

... without exception. Never mind that abuse is commonly denied by both inmate and by the family. Both have a powerful stake in denying that it ever happened. Regardless of claims, the abuse shows up in hospital and school records and in the testimony of more distant relatives who have less to hide.

Many men who crowd today's prisons have simply been injured in the course of sports or play. They may also have been treated with special physical harshness by otherwise well-meaning adults with the idea that boys must be "toughened up." Unfortunately, abuse or "physical training" to the point of head injury doesn't toughen anyone up – it simply makes them less functional.

This pattern is sadly common in domestic abuse. The spouse or child "won't pay attention" or "just won't learn" and so gets hit again and again. Oddly enough, adding more and more injury and damage doesn't fix the problem. Often they can't learn because they're broken.

A fascinating inquiry into the workings of the human brain and soul.

 
---
— by Christopher Nowinski
A superb sports-oriented work on head injury. Chris Nowinski once wrestled for the WWF under the persona "Chris Harvard." It's interesting that when he clearly suffered head injury, the care and caution exercised by those behind the cartoon performances put on by the WWF was far better than that of the NFL. Nevertheless, the striking thing about this book is the difficulty in finding someone who actually knew anything real about the real problems of head injury.
When this is the case for highly paid sports stars, how difficult is it for those lacking their resources?(On the other hand, the high finance sports world may be where the most denial lies. When the Steeler's Roethlisberger hit the windshield of an oncoming car, the Pittsburgh newspapers quoted UPMC doctors as saying that while he had broken his cheekbone, smashed his orbit, and split his maxilla "he does not have a head injury." He was put back into the game too soon, possibly to allay fan fears— but from all reports, doing so made it luminously clear that he was not the player he had been before the accident.)
Nowinski includes a fascinating section on American football as played in 1905 when the game was nearly banned. German dueling societies of the same era defended their bloody sword clubs as far less dangerous than American football; they had excellent reason to do so.
This book is important reading for anyone involved in contact sports, their parents, coaches and trainers. I would hope that trainers, members, parents and all family members involved with professional sports leagues read it too. For another angle on the same sad story, see A Tormented Soul, Greg Garber's article on the last days of NFL Hall of Fame-er "Iron Mike" Webster.  
---
  — by Stephen Larsen
Some 260,000 people are hospitalized with traumatic brain injury (TBI) each year. Thousands more remain unrecognized and untreated. The Brain Injury Association reports 1.5 million cases but still more go undiagnosed. Diagnosed or not, lives, livings, and relationships are altered or destroyed by impaired function and personality changes. When impairments are recognized, treatments usually involve drug therapy or surgery. Improvements may be few, side effects many.
Larsen describes a new and highly effective version of biofeedback, LENS, developed by Dr. Len Ochs. LENS uses extremely tiny electromagnetic fields (on the level of a digital watch battery) to feed back brain-wave activity and restore brain flexibility and function. The results are presented through patient stories and interviews with working therapists.
The book reads like an info-mercial, but the accounts are true. For a more technical work with research papers on neurofeedback applied to traumatic brain injury, ADD, autism, fibromyalgia and other disorders, see LENS: The Low Energy Neurofeedback System, by Hammond, below.
---
  — by D. Corydon Hammond (Ed.) 

In 2006, the ISNR devoted the entire December issue of its Journal of Neurofeedback to research papers on LENS neurofeedback. It is available in book form on Amazon.com. Papers and clinical reports deal with the use of the LENS in conditions including: autism, fibromyalgia, ADD, brain injury and more.

The standard belief about brain injury is that after a year, the way you are is the best you're ever going to be. I know from personal experience and the experience of many others that this is not true if neurofeedback is added to the equation.

Of all the excellent papers in this collection, I was particularly intrigued by a paper on two cases of anosmia (loss of sense of smell) following brain injury. Again, the standard belief is that once your sense of smell is lost to injury it will never return. Following treatment with LENS, sense of smell returned suddenly and spontaneously in the two clinical cases reported here.

I can add a third "anecdotal" case — my own lost sense of smell returned with LENS treatment. I have gone from being unable to smell dinner burning and smoking on the stove behind me to once again being able to smell the roses.
---
The only movie I have ever seen that accurately portrays the real consequences of traumatic brain injury. Movie heroes are constantly knocked in the head, knocked down, knocked out. Minutes later they are fully functional with nary a symptom to be seen.
In real life and real sports, brain injuries have real and devastating consequences. Victims must cope with the overwhelming difficulty of daily routines ("I take a shower WITH SOAP") and the loss of the most basic skills that normal people do on autopilot.
Chris (Joseph Gordon-Levitt) is one of the walking wounded. He appears perfectly normal but his brain is broken, and the obvious symptoms of his injury mostly inspire impatience and derision. They also inspire the attention of a gang of would-be bank robbers who appear to appreciate him despite his cognitive difficulties and memory problems. In truth, they appreciate him only for his job as night-time janitor at the bank they plan to rob.
Gary tempts Chris with a beautiful girl and dreams of money, power, and independence. Then everything starts to unravel for a young man who is good at heart and cares for his friends, but cannot remember and cannot sequence.
"Naw, you sequence just fine," advises Lewis. "You just gotta start at the end and work backwards. You can't tell a story until you know how it ends."
The end? Save Lewis. But how?
Everything else flows from that and from Chris's own innate courage and decency.
The movie is rich in character development, but it is also a compassionate and intelligent presentation of brain injury and what it really means. Gordon-Levitt spent a year with brain injury groups and support organizations to familiarize himself with brain injury and its consequences.
---
— by Daniel Amen
This book contains the information from the Amen Clinic Brain Atlas images  available on-line.
The book is more "wieldy" than individual computer screens. Enormously educational and a wonderful resource for illustrating what may be going on "under the hood" when a person exhibits particular symptoms.
I have never yet shown this book to a patient without hearing a startled gasp and a request to take it home.
---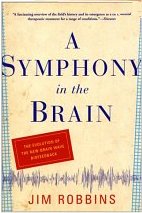 — by Jim Robbins 

A fascinating history of the discovery, the research, and the amazing cast of characters who pioneered the field of biofeedback. Take a trip back to the 60's and Barry Sterman's discovery that biofeedback could halt devastating epileptic seizures. It details the story of Brian Othmer whose parents Sue and Sigfried worked with the late Margaret Ayers in hopes of helping their son escape his seizures and personality disorders.

The rest is history. Real history and real research that you will find documented throughout the medical literature. You will find many of the names mentioned here in the PubMed database and you will find a wealth of information.
---
— by Greg Garber, ESPN.com

This link is to the first article in a superb 5-part series on the tragic post-concussion life and death of the renowned "Iron Mike" Webster of the Pittsburgh Steelers.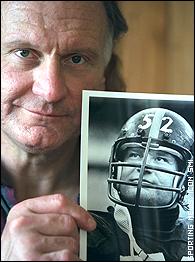 Webster is widely considered to have been the greatest football center of all time.
Predictably, the pounding and repeated concussions that he suffered in that position took a heavy toll.
A gritty but highly informative picture of what happens out on the gridiron and on the highway—and its tragic consequences to the victim and to the family.
For an extremely accurate depiction of similar injuries, see the movie The Lookout.



---
Software and Computer Training
---
Vitamin and mineral deficiencies may lurk behind problems from depression (see Hedaya, above) to anxiety, sleep disturbances, ADD, and other symptoms related to (or even mistaken for), brain injury or other disruptions to the point of mental illness.
A side-note: One of the common side-effects of head injury is photophobia, extreme discomfort in bright light. Victims may wear dark sunglasses everywhere and avoid going out in the sun at all. Add that to the dogma that any bare skin must be slathered with sunscreen for fear of dangerous burning rays. Unfortunately, most Vitamin D is formed on the skin; it is poorly supplemented in foods. Between "sunscreen abuse" and sun avoidance (typical of brain injury), Vitamin D deficiencies (associated with depression, chronic aches and pains, autoimmune diseases, and even risk of heart attack) have become extremely common. Meanwhile, researchers have doubled and tripled the recommended daily allowances. Please do not supplement at these higher doses without first obtaining a Vitamin D test. There are two tests: 1,25(OH)D and 25(OH)D. The best one is 25(OH)D.
Track your intake with DietPower, one of the best nutritional tools around. The program tracks over 30 vitamins and minerals (in natural and processes commercial foods) water, weight, calories burned in exercise, and more. Available as a free download for a 15-day trial. If you decide to purchase, type Round Earth into the registration box and they'll give you $5.00 off.
---
ADD (Attention Deficit Disorder) is considered to be a disorder of children; medical insurance doesn't even cover ADD medications for adults. In fact, injury-induced ADD is one of the most devastating and most common consequences of brain injury. Can't organize, can't find the other shoe, can't find the bills or remember to pay them, haven't changed the sheets for weeks or months, maybe sleeping in your clothes. Life becomes sheer "CHAOS" (Can't Have Anyone Over Syndrome) because the house, the desk, the life is such a mess that it's impossible to ask for help — until of course, everything is Better.
But how can Better ever happen when you can't remember how to make it happen?
FlyLady.net does not address brain injury — just the symptoms of CHAOS, ADD, and drowning in confusion and disorganization. It provides a gentle but effective way out of the dark and chaos and confusion, starting with the simplest of babysteps:
Polish your kitchen sink
Put on your lace-up shoes.
If you can handle that, you're on your way.
Sound silly? Not at all. It is the Real Life application of Lewis'advice in "The Lookout" (see above) via The Story of Goldlocks and the Three Bears: "Naw, you sequence just fine," he told Chris. "You just gotta start at the end and work backwards. You can't tell a story until you know how it ends."
The end? A clean sink, polished and dried.
Ordinarily, this would be the very last step before company arrives. Ordinarily we do this only after the house is clean, table set, food cooked and warming in the oven. It it makes no sense to do it before the dishes are washed and counter-tops cleaned. Only then do you wash and dry the sink. End of story.
But there's nothing ordinary about brain injury. For those whose challenges are now far beyond the ordinary, Flylady's "Polish the Sink" approach does for domestic disaster just what Lewis did for Chris: it cuts through all the steps and clutter and confusion to the end — then asks "What is the step before that? — and before that?"
Everything else flows from there. Give it a try.
---
The Journey to Wild Divine is a biofeedback "game" that offers many of the same benefits as clinical programs costing thousands. Finger sensors document actual physiological changes, explaining the many physical benefits long-attributed to yoga and ki training.

The Passage is the first program. In order to play the game, you must learn to breathe and you must learn to relax - while focusing attention. 

Wisdom Quest builds on the base skills to teach more advanced meditation and breathing techniques.

Healing Rhythms is not a game. It is a stand-alone program of exercises that artfully combines biofeedback training, guided meditation, and breathing techniques.

The Grapher Expansion Pack (an add-on to Passage but included in Healing Rhythms) displays the physiology behind the game. Watch the interplay of mind and body on-screen. Watch your heart rate and blood pressure changing, under your control, in real time. Watch your blood pressure or heart rate changing, under your control, in real time. See for yourself the effects of breathing and relaxation exercises.

See also the clinical information page for RESPeRATE, a simple biofeedback trainer that lowers blood pressure; at the bottom of the page you will find a list of reports from medical journals specializing in hypertension and reporting the benefits of breathing exercises over drugs. RESPeRATE is a device that effectively lowers blood pressure through breath training. But Wild Divine is much more interesting.